music streaming on Spotify
Pardon my savage is a song about woman and visually, mentally and physically appreciating her physical appearance. The song gets graphic hence the title "Pardon My Savage". But its presented beautifully.
Free download of the song Pressure is Rising beat production by Ganjak
Pressure is Rising is a song of the album Behold the Tyrant ( Lord of war vol.2). This song is about the pressures of being over looked, disregarded, dismissed and forgotten. Pressure makes diamonds and it also explosions. This song can be considered a diamond ready to explode.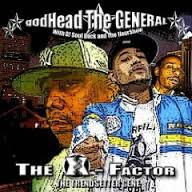 The Dynamic Duo is back DJ Soul Buck and godHead the General presents another album/mixtape. This project was Executively Produced by godHead The General and Co Produced by DJ Soul Buck the concept was inspired by the Presidential race. This country and many others have only a few Political parties representing the entire system of communities made up of different nationalities. godHead The General ,within this album/mixtape concept, created The T.H.O.R. party to counter these old political parties who does not put it's people's needs first. The T.H.O.R party is founded on four basic principles Truth, Honor, Originality and Realism these are the same principles hip hop was founded on. These four basic principles transcends gender and is taught to us all as children. godHead the General also knew that hip hop is more than a musical genre he saw as hip hop bridge the gaps between race and nationalities in America and across the world. So He decided to run for president and hip hop culture was his message.